frequently asked Questions

When should I order?
A: Orders for Monday thru Friday should be placed at least
one day in advance.
Saturday orders must be placed by 6:00 PM Friday.
We bake extra's of our popular 9" cakes for last minute
orders, but all 7" and sheet cakes must be pre-ordered.

Do you decorate or personalize your cakes?
A: We do not decorate or personalize our cakes, but some cakes do have nuts on top
and we are happy to enclose a gift card with a personalized message.

How many people do your cakes feed?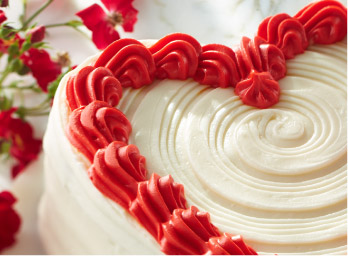 A: The 9" round bundt pound cake feeds approximately 15
The 9" three layer cake feeds approximately 16
The 7" two layer cake feeds approximately 6-8
The 10 x 14 ¼ sheet cakes feeds 20-25

Do your cakes freeze well?
A: Our cakes freeze beautifully up to three months

How long does a cake stay fresh?
A: As a general rule, our cakes stay fresh at room temperature up to one week.

Should I refrigerate my cake?
A: We do not recommend refrigerating the cakes; it seems to dry them out.

Do you sell fat free cakes?
A: We do not sell fat free cakes.

Do you sell sugar free cakes?
A: We do not sell sugar free cakes.

Do you ship cakes?
A: Yes. We can ship both pound and 7 inch layer cakes via UPS anywhere in the United States.